Transport Facility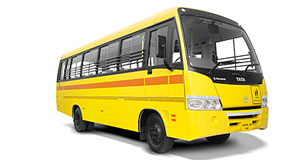 School must ensures the all needs to today generation parents. Parents are using services of school buses to pick and drop their kids so kids reach in school on time comfortably.
The safe and comfortable GPS enabled bus facility is an attraction that counts for the parents' peace of mind.
Adhira International School has transportation facility which includes well equipped transportation system. We aims to give safe, timely and comfortable ride to students.
Features of transportation facility of AIS:
GPS tracking and CCTV camera: We have our own transportation system enable with GPS tracking and CCTV camera.
Comfortable and spacious seating: We ensure the safe and comfortable ride of students.
Timely pick up drop: Transportation officers plan route to facilitate the timely pick up drop.
Communication system: Every school bus attendee has school mobile phone to connect with parent and to communicate in emergency case.
Rules Governing Transport Facility
Transport service is an optional service.
The Management at their own discretion has the right to disallow any student from availing the bus facility.
The communication related with bus no., bus routing and timings will well in advance communicate to the concern parents. Parents are requested to follow the same.
Any change in the bus timings will be notified to the parent by the Transport Department.
Students will have to before or on time at the respective stops allotted to them only to board in School Bus. The Transport Dept reserves the rights to allot the stops.
Students must maintain decorum and discipline of school bus while traveling on the school bus. Any student guilty of misconduct will not be allowed to avail the bus facility.
A student shall be refused the bus facility if involved in damage to the bus property. Besides, the damage done will have to be compensated by the student. 
Discontinuation of bus facility will only be allowed Quarterly. Bus facility cannot be discontinued for any particular month.
No transport facility shall be available for other activities / events that school may plan on holidays / vacations.
The school has taken utmost care for the safety and convenience of the students.
Any suggestion/ complaint regarding the transport service is to be made in writing strictly to the Transport Department and the same shall be entertained by the Transport Department only.
No child will be handed over to an unknown person/ to anyone without the parent I-card which must be produced at the time of pick up.
Please cooperate with the drivers and attendants. It takes nearly two weeks to set the transport route. Hence, there is a possibility of mismatch of timings given to you at the start